English/ International assessments (EN)
Together Psychology offers youth assessments throughout The Netherlands. IQ-tests, educational level testing, underachievement-assessments and giftedness testing. In Dutch, English or non-spoken.
We focus to reach the best possible in test administration and to offer tailor-made, high quality reports that contain practical and useful advice. Our team is top-quality (mainly cum-laude MSc) and our customer-satisfaction is very high.
Reimbursed? In case of behavioral or developmental problems and you are a registered citizen of The Netherlands, it is possible that our services are covered within the Dutch public care system. Your municipality will then take care of the costs (reimbursed care). View our list of contracted municipalities, including The Hague ('Haaglanden') and Amsterdam area.
We are located throughout The Netherlands: Amsterdam, The Hague, Rotterdam, Utrecht, Eindhoven and more, see our list of test-locations.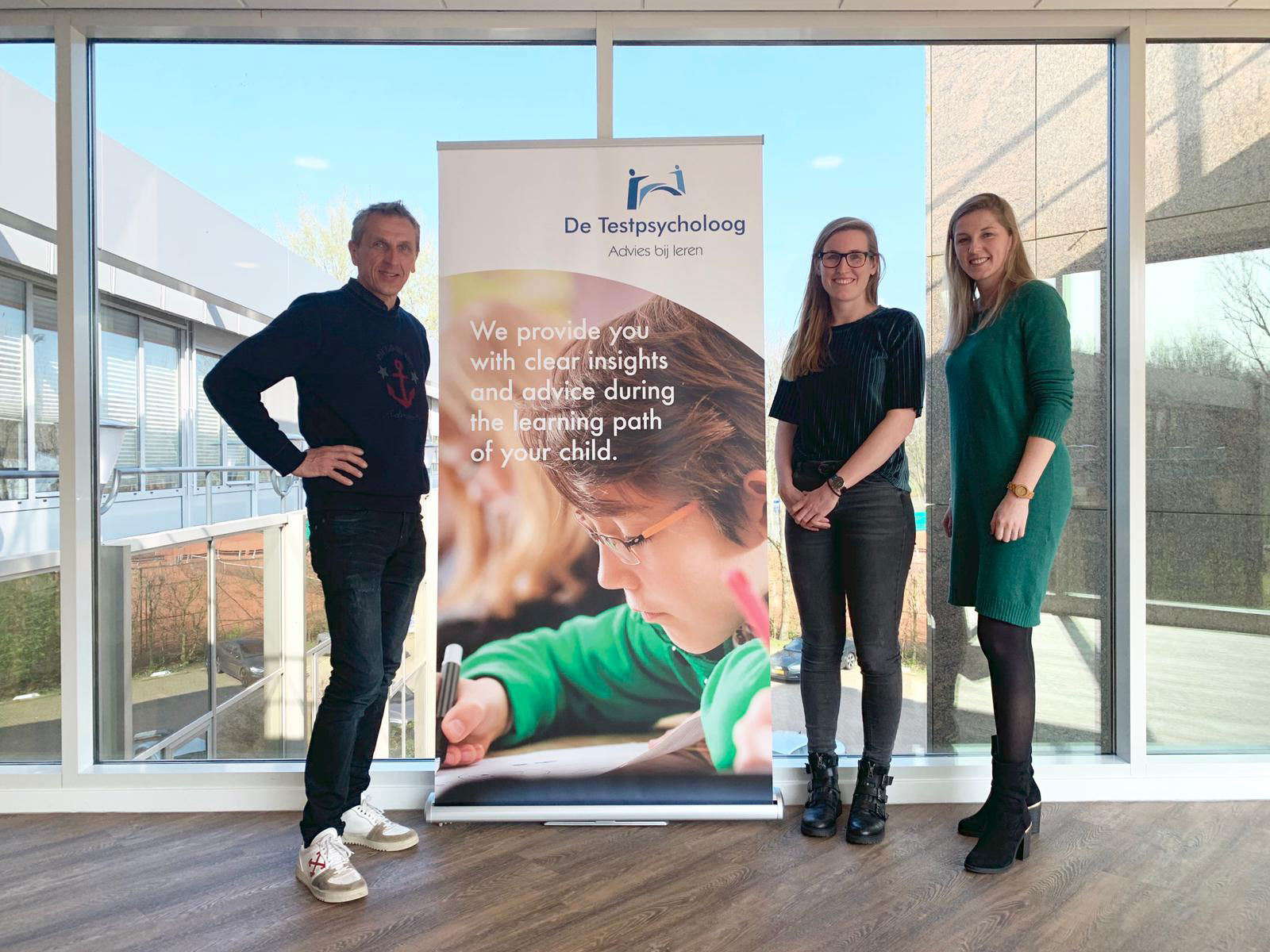 I am very much pleased with your service and I wanted to provide you a review. Your report was very helpful in identifying the needs for my son. It was very detailed and covered even the minute things we had discussed. The test was conducted in a very friendly manner and my son really enjoyed it. I would recommend Together Psychology to everyone and especially to expats like me who are in search of an English assessment. Regards, Anonymous ("Yes you can use my review on your website. Kindly make it as Anonymous.")
Dear Marcel, We want to express our appreciation for the way the testing of our daughter was dealt with. You swiftly responded to our inquiry with elaborate, clear possibilities. Once we had decided to use De Testpsycholoog, your colleague quickly arranged the testing date and location (conveniently in "our town"). Our daughter felt at ease with the psychologist where it was additionally advantageous that the tests were in English and not in Dutch. The report arrived within the agreed time. The findings turned out to confirm our suspicion. The report contained not just facts/findings but also additional information (explanations, useful links / organizations, etc): these will help us in assuring the right educational basis for our daughter as well in guiding her while growing up as a teenager. Whereas we hoped that the Dutch version would be sufficient, we were glad that your company provided in meantime also a professional translation into English (also this version arrived within a week).Job well done ! We are really satisfied with the service provided. Kind regards; Agnes & Bernt
Cognitive profile assessment – IQ test child
A cognitive profile assessment measures the underlying cognitive abilities contributing to various academic skills. The measurements predict a child's performance in corresponding academic areas. We encourage parents to test children early. Due to plasticity of a child's brain, many of these cognitive abilities could be developed or strengthened if shortcomings are determined at an early age.
The assessment uses a combination of objective, norm-referenced psychometric tests to identify a child's unique cognitive pattern (i.e. strengths and weaknesses in various areas of logical reasoning and information processing). Specifically, it evaluates the child's ability in Verbal, Visual-Spatial and Quantitative reasoning as well as working memory and visual-motor coordination. It measures a student's ability in a way that is independent of previous academic training.
The results of the cognitive profile assessment help predict a child's ability to learn and perform in various school subjects. These results can be used to make informed decisions regarding educational placement and extracurricular activities. Knowledge of a child's cognitive strengths and deficiencies helps parents develop a specialized training or enrichment program for their child.
The assessment report has two possible formats. The first format is an 'IQ-scan'-report which offers an IQ-profile (all results including Full IQ-score) and explanation of the test subjects. The second format is the extended report. Next to the the IQ-profile, in this report we analyse the results and offer practical recommendations on how to address a child's specific areas of need or to develop existing aptitudes.
Children IQ-tests administered by Together Psychology include SON-R, WPPSI and WISC.
Giftedness assessment
A gifted assessment is recommended if you feel that your child is intellectually advanced and not sufficiently stimulated by the regular curriculum. Based on the results of the gifted assessment, the school board can decide to place a child in a specialized gifted program designed for intellectually-advanced students or to meet the child's needs through regular classroom placement augmented with a specialized gifted curriculum.
Gifted children differ from their peers in their thinking, learning style, social interactions, and emotional reactions. Therefore, they require different educational and parenting approaches. Whether or not the child meets the entrance criteria for the gifted program, the results of the gifted testing can help parents to better understand their child's strengths and weaknesses, and to guide their decisions about extracurricular and enrichment choices.
Underachievement at school: Psycho-educational assessment
If a performance is under expectations or a child is under-challenged at school, the psycho-educational assessment 'underachievement' can be conducted. This assessment can benefit a child, teenager or young adult who has trouble keeping up with academic work, gets easily distracted, does not pay attention in class, lacks interest in school work, does not remember what he/she learned previously, or has problems in a particular academic area.
The psycho-educational testing can be suggested by the school, although often parents become concerned and initiate assessment on their own. An 'underachievement at school' assessment will identify the persons strengths and weaknesses and will determine constructive ways to work with them. A weakness in one or more cognitive processes (e.g. working memory, processing speed, visual-motor integration, memory, etc.) may interfere with learning progress. Also, a weak social-emotional functioning, motivation, personality and/or executive functioning may interfere with learning progress.
In a parent interview prior to the assessment we will discuss your worries and request(s). You may also provide us with previous psychological assessments if available. Based on this review, we select the tests and procedures that will help us to uncover the sources of your child's struggles and guide the way to resolve them
Reimbursed care
Within The Netherlands, your municipality is responsible for psychological care for children and young people. If we have a contract with your municipality, you can contact us directly with a referral from a general practitioner (or other recognized referrer). The municipality then pays for all of our services (no costs left). A referral can be given in case of developmental or behavioral problems. Currently we have a contract in these regions / municipalities:
Amsterdam–Amstelland / DUO

 

(020 – 2611 932): Amsterdam, Diemen, Uithoorn, Ouder-Amstel. You find us near the Vondelpark (Van Eeghenlaan) or the Olympic Stadium (IJsbaanpad).
Aalsmeer

 

en

 

Amstelveen

 

(020 – 2611 932). Our practice is in Amstelveen (at 'Officez', Startbaan 6).
Zaanstreek–Waterland

 

(020 – 2611 932): Beemster, Edam- Volendam, Landsmeer, Oostzaan, Purmerend, Waterland, Wormerland en Zaanstad. In this area we have our practice in Koog aan de Zaan ('De Bedrijvige Bij', Lagendijk 3).
The Hague area / 'Haaglanden'

 

(015 – 2023 024): Delft, Den Haag, Leidschendam-Voorburg, Midden-Delfland, Pijnacker-Nootdorp, Rijswijk, Voorschoten, Wassenaar, Westland and Zoetermeer. You find our practice in Zoetermeer within the Crown building (Boerhaavelaan 40).
Gouda area / 'Midden–Holland'

 

(0182 – 235 060): Gouda, Zuidplas, Bodegraven-Reeuwijk, Waddinxveen, Krimpenerwaard (voorheen Nederlek, Ouderkerk, Vlist, Bergambacht and Schoonhoven). We are located in Gouda (Gouda Studio's, Oosthaven 12).
Food

 

Valley

 

(0345 – 504 989): Barneveld, Ede, Nijkerk, Renswoude, Rhenen, Scherpenzeel and Veenendaal. We have a location at the Business Center, Galvanistraat 1, Ede.
Tiel-Culemborg area / 'Rivierenland'

 

(0345 – 504 989): Tiel, Culemborg, Buren, West-Betuwe, Neder-Betuwe, West Maas and Waal. You'll find our main practice in Geldermalsen (Kostverlorenkade 6).
Zaltbommel

 

en

 

Maasdriel

 

(0345 504 989). We are located at the Health Center Zaltbommel ('Gezondheidscentrum', De Virieusingel 8).
Den Bosch – Oss – Uden area / 'Brabant-Noordoost'

 

('s-Hertogenbosch 073-2032126 / Oss 0412-250034): 's-Hertogenbosch, Bernheze, Boekel, Boxmeer, Boxtel, Cuijk, Grave, Landerd, Meierijstad, Sint-Michielsgestel, Mill & St. Hubert, Oss, Sint Anthonis, Uden, Vught. Our practice in Oss is located within the health center 'Anton Jurgenshuis', Schadewijkstraat 8.
Adult assessments: IQ test
IQ tests can measure someone's intellectual potential or help diagnose intellectual disabilities. Complementary to the mentioned above, De Testpsycholoog provides adult assessments, our services do not include a full 'underachievement' or 'giftedness' assessment but we are capable to offer personal insights and professional advice.
We administer (and recommend) the WAIS-IV EN or the SON-R 6-40.
The WAIS-IV EN is an English language IQ test. It is an individually administered clinical instrument designed to assess the cognitive abilities of adolescent and adults aged from 16 till 90 years old.
The SON-R 6-40 test is an individual intelligence tests for general application which does not require the use of spoken or written language. Therefore, the SON-test is especially suited for people with problems in the area of language and verbal communication and for immigrants. This SON-test can be administered by adults up to 40 years old.
If any behavioral information is requested next to the IQ-information, please contact us to discuss how we can offer you an assessment that fully fits your needs.
For registration or if you require additional information please call us or use our registration form (this form is in Dutch, please register your name, e-mail, phone-number and leave your message).
Together Psychology, trained psychologists
The diagnostic staff of Together Psychology is licenced, trained and experienced in the administration and interpretation of psycho-educational assessments. Our team is top-quality; all are MSc (psychologist or equivalent psychometrical) with high university grades. We all are experienced in testing international examinees – with a variety of ages, linguistic backgrounds and clinical, cultural or educational histories. We understand educational problems of international students.
Together Psychology always focuses on optimal test-performance. This allows us to provide an accurate picture of the current and/or suggested (education) level. We have extensive knowledge of the Dutch and other educational systems. We understand the challenges it brings for international families.
Our employees are member of the Association of Educationalists in The Netherlands; The Dutch Association of Psychologists and/ or the Dutch Youth Quality Register foundation (SKJ).
Underestimating bilinguals is substantiated by unfair tests
Bilingual or multilingual? This gives us an extra challenge. A trend can be recognized in underestimating multilingualism. This trend is not only within The Netherlands, but applies internationally as well. Two quotes: "In language minority (children), assessment results serve to marginalize and demotivate, to reveal underachievement and lower performance."; "The root cause tends to be a bias against bilingual minorities that is endemic in many societies and is substantiated by unfair tests." Source: 'Foundations of bilingual education and bilingualism', 2011, p. 357 and 358. With this in mind, we are highly committed.
For two special groups, we have additional pages with specific information (in Dutch). These are children of expatriats and children of immigrants.
Pricing information: our fees
All fees are all-in: intake, test administration, report (pdf and paper), after service, tax.
If you are a registered citizen of The Netherlands, your municipality might pay for our services. Find out more about reimbursed care at 'vergoede zorg' (in Dutch).
Any question? Please consult us for further information and to discuss the best suitable instrument for your situation.
IQ-tests
IQ-test child 2,5-7 yrs – SON-R
€ 680,-
IQ test child 3-8 y. – WPPSI-IV (English edition)
€ 680,-
IQ test child 6 – 17 y. – WISC-V (English edition)
€ 730,-
IQ test 6–40 y. – SON-R 6-40 (Non-Verbal, international IQ-test, any country)
€ 680,-
IQ test adult 16 – 90 y. – WAIS IV (English, USA-edition) IQ-test

 

Adults

€ 680,-
Giftedness assessment (English test instruments and questionnaires)
€ 980,-
Underachievement at school (English test instruments and questionnaires)
€ 980,-
Broad psychological assessment (includes IQ, personality, motivation, social-em.)
€ 980,-
Together Psychology is located in Zoetermeer. For registration or if you require additional information please call us at (+31) (0) 85 080 5660 or use our registration form. (This form is in Dutch, please register your name, e-mail, phone-number and leave your message.)
Erkende kwaliteit door certificering en registraties